Conference Venue
The city of Bonn
Founded in the 1st century BC as a Roman settlement, Bonn is one of Germany's oldest cities and tends to leave a considerable impression on most people who visit it. The city gained true global recognition when it became the home to the West German parliament and government after 1949.

Today, Bonn is Germany's United Nations City with a total of 20 UN institutions.
Famously known as the birthplace of Ludwig Van Beethoven, Bonn offers a wide range of cultural activities and museums and an atmospheric street culture with many cafés and beer gardens.
Gustav Stresemann Institut Bonn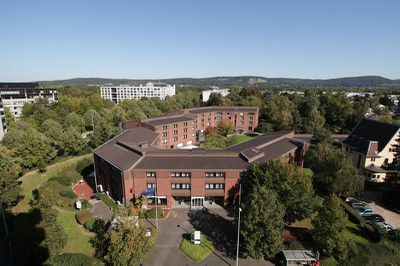 The GSI in Bonn is modern centre for education, discussion and meeting which is located in the heart of the former government district in Bonn.
In recent years, the modern conference centre has evolved to become a key venue for political discourse, education and culture.
Address:
Gustav-Stresemann-Institut e.V.
Europäische Tagungs- und Bildungsstätte
Langer Grabenweg 68
D-53175 Bonn
How to reach the GSI:

For a detailed instructions with different kind of transportation see the GSI Website
It ist connected to a 3-star superior hotel which offers 210 single and double rooms. To reserve your room please contact the hotels directly well in advance: Booking accomodation at the GSI
Last Modified: 22.02.2023